"Who wants flowers when you can have Powerbars?" Mariana Lara Albert interview
Multiple Ironman awards winner and the most competitive person I know Mariana Lara Albert has found some time in her busy schedule to answer ambalco.com cycling game player's questions. And some of my own questions too. This interview comes unfiltered, so all the triathlon truth is here.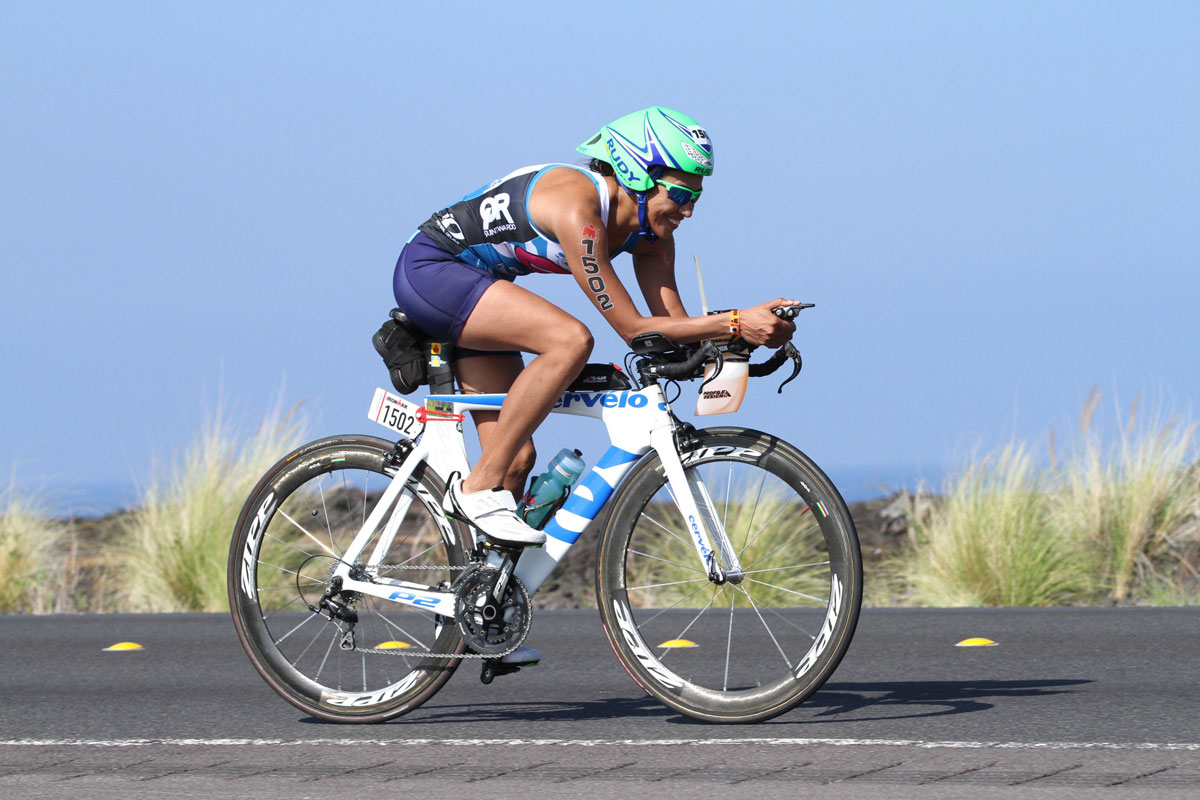 And the hottest question everyone here is curious about: what's your story? I mean, previous sports achievements and how did you get in triathlon?
At first, I fell in love with mountaineering when I was 19 years old. I used to live in Argentina, Mendoza and the Andes mountains were my backyard. I belonged to a mountaineering group called CUDA. In 1995 I got to the summit of Mt. Aconcagua (6.959 meters). It was an experience I will never forget. I was also lucky to do other peaks of 6,000+ meters. I had dreams of Everest one day but life took me to other places and adventures. When I moved to the USA in 2002 I took more on running. Then, just running was not enough for me and decided to try triathlon. I did my first sprint triathlon in 2005 and I was hooked forever. My first Ironman distance was in 2008 and fell in love with long distance triathlon. Since then, I have been focusing on half and full distances. I have completed eleven full distances including the Ironman World Championship in Kona, Hawaii three times, and I have already lost count of how many half-distances and Olympic distances I have done; too many!
The happiest moment?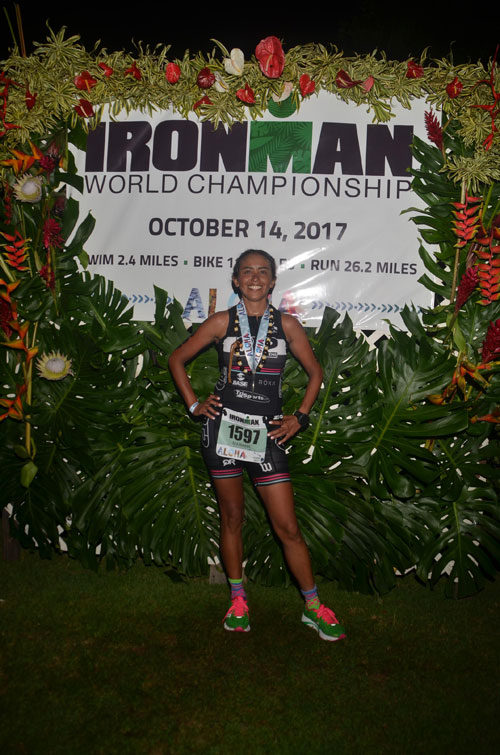 Crossing the line of the IM World Championship in Kona, Hawaii in 2010. I never imagined I would be there to compete. You have to qualify to go to the Ironman World Championship. I qualified at Ironman Lake Placid in July that year and then went to the World Championship in October of the same year. Getting there and the days leading up to the race were a little stressful but the overall experience was great. It was a dream come true for me.
Is the Ironman distance long enough for you? I mean, have you ever dreamed of ultra?
I think the distance is long enough for me… the last 10k of the Ironman is always so painful, physically and mentally, I would not want it to be any longer! I would definitely like to try an ultra in one discipline only, like running 100 miles, for example. I once tried a 200-mile bike race in Death Valley, Nevada. Unfortunately, I forgot to take a right turn for a 10 mile out and back and kept going straight instead. I ended up doing 190 miles and I was DQed. That was the longest I have ever biked in one day. I have to go back and finish it; I see it as an "unfinished business" to take care of one of these days.
Wow the fact you missed the turn means you were riding solo, not on the wheel of the team mates. Not so many cyclists dare themselves to ride 200 miles with no drafting.
Do you remember some other unexpected situation, when everything went totally wrong at triathlon race?
I have not had a race where everything went wrong. I have had races where many things went wrong. Once I forgot my nutrition at the hotel and had to ask a friend to borrow some gels and bars. I have had flat tires, stomach issues, leaking goggles, irritating dropped chains, and I have bonked several times. The Ironman race is so long that nothing ever goes as planned and that is why I like it. During the Ironman race anything can happen and anything is possible.
Have you ever panicked in the rolling start soup of triathletes? Any hits or misplaced glasses?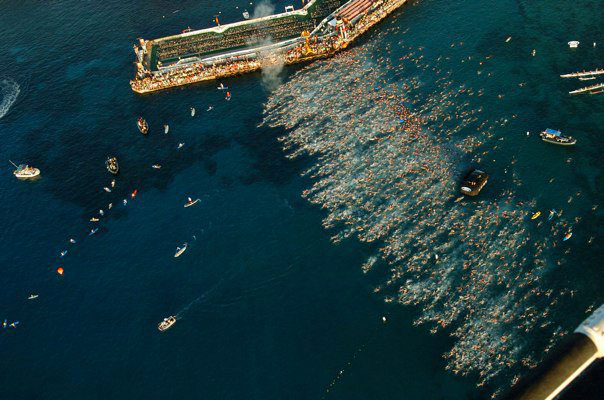 I hate the swim start of big races! After all these years it still makes me nervous and uncomfortable. I think it is horrible! I have never had my goggles knocked off but I have been hit, punched and people have swum over me. You don't have to take it personally, no one does those things on purpose (well... maybe some do!). That is the way it is!
Your Garmin battery is dead. Would you go cycling or running anyway?
I would be so mad! I need my data, HR, and power! However, the thought of missing a workout would make me even angrier. So, yes, I would go anyway and use a regular watch. With the Garmin or not, the workout is going to get done! Besides, once in a while it is a good idea to go out without your gadgets and just listen to your body and get used to knowing what your paces feel like. You should be able to go by feel as well; what if your Garmin stops working on race day? You also need to be ready for that.
Is cycling without SPD pedals worthless waste of time?
If you are doing serious road or mountain biking, you would be better off with SPD pedals. You are able to pedal better, with more efficiency and power when you are clipped to the pedals.
Do you use different bikes for training and for the race?
I race with the bike I train. I have a Cervelo P2 and I love it. I have always used Cervelo bikes. They are an affordable luxury and are very reliable. I had a road bike until last year but I sold it. I was not using it that much.
Do you use bike trainer/roller?
I have an indoor trainer. The winters here are too snowy and cold. I am forced to train indoors and I do not like that very much. I never look forward to riding 5hrs + indoors! I decided I will get a smart trainer this year to make my rides more enjoyable.
I hope Ambalco will get cool enough to make 5hrs indoor ride enjoyable :-)
What is your average power and cadence during the race?
During an Ironman race, my average power is usually 150's and for a half Ironman race, it is about 170. Cadence is usually 78-80.
Do you care for cadence or your target is only the power?
I do care about my cadence when I race because I do not want to cook my legs for the run. I try to keep my cadence in the low 80's or high 70's. That is what I feel comfortable riding. I use heart rate instead of power. I like knowing my power numbers but ride with heart rate all the time. Since I started using heart rate I have improved a lot on the bike. In my recovery rides, I make sure my power is very low, 50's or 60's, yes! that is very low and slow! I have the Powertap P1 pedals. They are very easy to install and convenient for travel.
Everyday bike commuting to work - does it count as a workout?
It could count as part of your workout but you don't want it to be all the training you do for cycling. If you are a recreational cyclist, I would say that is ok. If you are seriously training for a specific race, I would not count it as the only way of training.
Does it make you angry when somebody drafts behind you?
If it is in training, it does not. On the contrary, I feel flattered that someone considers me fast enough that they want to draft. The Ironman race is not draft legal and it does make me mad when I see people cheating.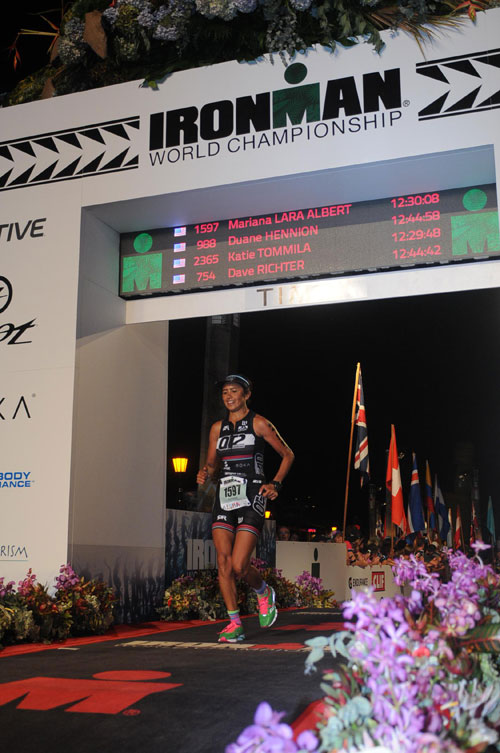 Is your support crew always the same?
My significant other is always there to support me during Ironman training. Getting up early, going to bed early, and saying no to some social events is not easy without the understanding of your loved ones. I am lucky that my partner does triathlon too and we understand each other's craziness. We are also happy with each other's achievements and cheer each other when training or life is not going the way we want it to be.
This is so nice! Did you meet in the gym or some other sports place?
At the time Sean and I met in December 2010, I was the membership coordinator of a triathlon team called Green Mountain Multisport or GMM. He emailed me asking about how to be part of GMM and that is how we started chatting. And he never became a member of GMM! For Valentine's day, he gave me Chocolate Powerbars; that is when I knew we were meant for each other. Who wants flowers when you can have Powerbars?
Sounds cool!
How early do you wake up and go to bed? Does your day start with cycling and running? Any food before the morning workout?
Now that I am not teaching anymore I get up at about five in the morning. I used to get up at four in the morning to get a workout done before leaving for school! My day either begins with an early swim or with a cycling workout depending on the day. Before my very early workouts, I have a banana with some sports drink and get breakfast afterward. I go to bed between nine and ten most days.
Five AM! OMG at this early hour most of normal people just open one eye and say "Wha? Fa-va-am?". For those who want to make a step up, for the first time Ironman athlete, are three coaches needed, or one and only triathlon coach can be enough?
You want to find a triathlon coach, someone who knows how triathlon works. You can't train as if you were racing each individual discipline. It is all connected. You will not be training to ride as a pure cyclist or run as a pure runner. For example, your cycling workouts should be done in such a way that will allow you to bike your best and at the same time to run well off the bike.
Do the calf muscles get bigger?
I guess for some people, they do! Not for me. It is important to strengthen your calf muscles to avoid injuries. Triathletes spend time at the gym to get stronger not necessarily bigger.
You must be burning a lot, do you have problems getting enough calories?
Endurance training burns a lot of calories and you have to refuel after each session with food that provides the appropriate nutrients. I never have problems in getting enough calories, on the contrary, sometimes I get too many!!!
What do you think of going vegetarian?
I think it is a wise choice. I have been eating a plant-based diet for two years now. I don't eat any animal products whatsoever. No meat, fish, eggs or dairy or anything that has been made with those ingredients. My body feels better than ever and energy, as well as training, have not been compromised at all. I get asked a lot "Where do you get your protein?"; it is really easy. There are plenty of high-quality, plant-based protein options. You just need to do your research and know what your body needs. You will eat cleaner, help your body be healthier, help save the environment, and avoid the unnecessary suffering of billions of animals.
What is your diet?
I have a plant-based diet. I always make sure that I am fueled before, during, and after my workouts. I eat a lot of fruits, vegetables, almond or soy milk, yogurts, tofu, tempeh, legumes, rice, pasta, protein shakes, etc. The options are too many!
Some people are good at cycling, some are good at running. What is better for the amateur: to upgrade the weak skills or further improve the strong ones?
You always have to work on your limiters. Identify your weaknesses and work on them while maintaining your strengths. It will lead to an overall improvement. The offseason is a good time to work on your weaknesses.
What's your advice to all Ambalco players who want to be triathletes?
You will not regret it! I am warning you, though, that you will become addicted to it!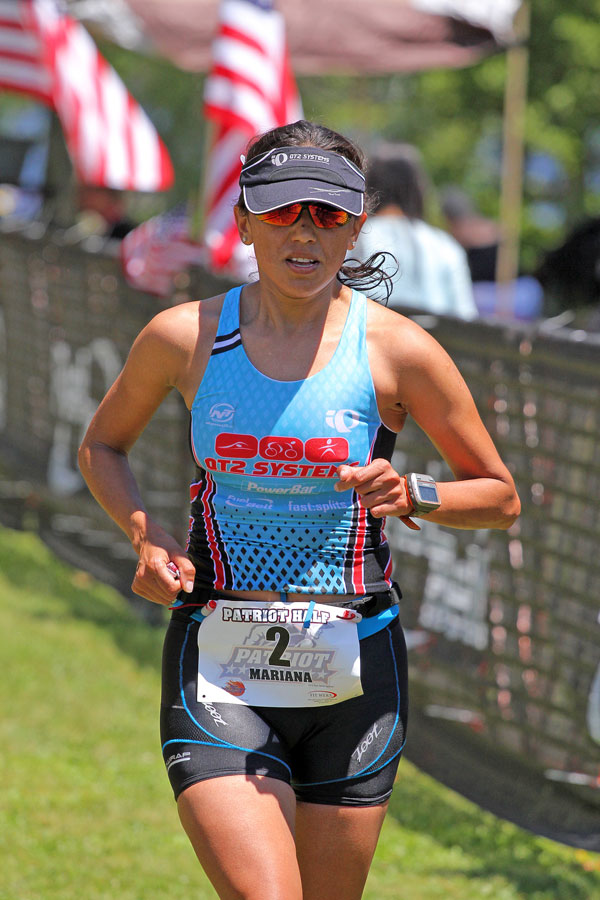 How strong are you addicted? How crazy you are about triathlon?
I can't explain the feeling but I get very uncomfortable when a day goes by that I don't sweat. I need the exercise or it would drive me crazy and would feel sluggish all the time. I feel so energized when I swim, bike, or run and it gives me a sense of accomplishment. Working out in the morning sets the tone for the whole day.
As for craziness, our Christmas' presents and birthdays' presents evolve around giving each other gear instead of anything else. Once I biked indoors a week after having abdominal surgery. I could not stay in bed any longer so, I biked for 15 minutes that day and I rode about one kilometer, very slow. It was a victory! My boyfriend was right next to me in case I got dizzy or lost my balance. Another time, I was training for an Ironman in the spring, so most of my training needed to be done during the winter. I had a 15-mile run to do and we had a big snowstorm. I went running anyway. I could barely run in the snow and I couldn't see anything as the snow was falling all over my face. It was a very uncomfortable run and I had to dodge a lot of trucks plowing the snow, but I made it through. Some years ago, I rejected a really good job offer because I was not allowed to take two days off to go to my Ironman race. I ended up being unemployed for three months. It was not a very responsible thing to do! Furthermore, if we go out of town, we always make sure that there are a pool and a gym nearby the place we are staying.
Do you like compression wear? And what brand?
I like to wear compression socks after a race. I don't use them for racing. I personally do not find them comfortable when racing. I like the 2XU brand but there are many others that work just as well. Don't be too concerned about the brand. Sometimes, the cheaper brands work just as well or better than the others.
What running shoes are the best for you?
The best running shoes for you are the ones that make you feel comfortable. I have tried so many brands and types. I personally like lighter running shoes. In the last two years, I have used Saucony and New Balance shoes. If you have overpronation or supination issues, you may want to use shoes that help you with those issues. Many shoe stores that sell running shoes have employees trained in these issues and they will help you choose the right shoe.
Running shoes: what is the perfect drop?
I think it is a personal preference. I like shoes with a low heel-to-toe drop. You should buy shoes that feel comfortable and that feel like an extension of your feet. You just have to be careful to avoid injuries.
Aero helmet - is it marketing feature or real advantage? What do you think?
Simply put, you have to train to get faster. You can use equipment to help you be faster a little more (free speed).Train your engine first and work on your body composition and then, decide on aero helmets and race wheels. The aero helmet will be an advantage and can save you minutes if it is the right helmet, it is positioned correctly on your head, and you have an efficient position on your bike.
What do you eat during an Ironman race?
I have a very specific fueling racing plan. I follow this plan to the T. The plan has been tailored to my own sweat rate and carbohydrate needs. But basically, I eat Powerbars and gels on the bike, and Cliff shots every two miles on the run. I eat a banana at T2 and drink at every aid station. My triathlon team, QT2 Systems, offers race fueling plans for triathletes, runners, and cyclists. Check it out! www.qt2systems.com
How did you get to this team?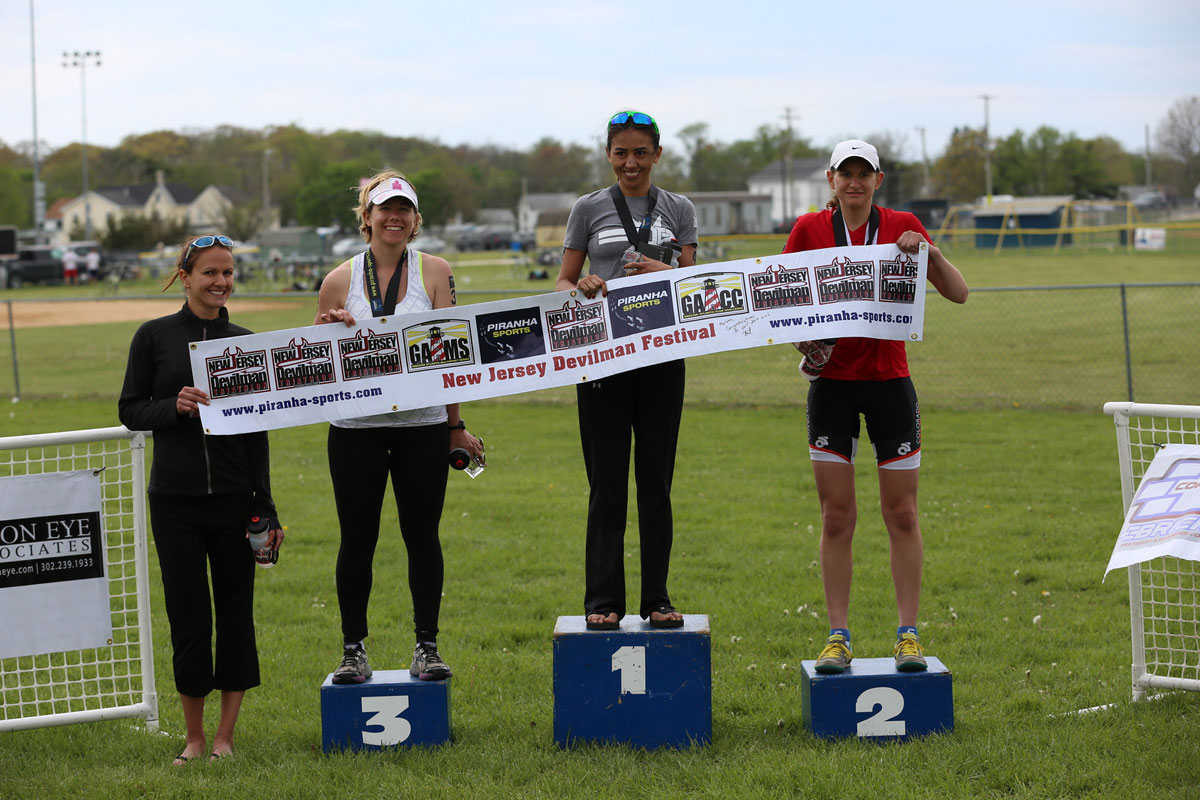 For about four years I was coached by a very talented professional marathoner and professional triathlete. She was great and under her guidance, I qualified for the Ironman World Championship. However, I needed a break and I needed to try something different. A fellow athlete I knew was having a lot of success under the guidance of QT2. So, I decided to give it a try. I started with QT2 in 2011 and I have been with the team since then. I believe their protocols for training are very effective. They have a very talented team of coaches and they coach all levels of athletes, from pro athletes to elite age groupers to beginners. They coach athletes all over the world. I have learned tremendously since I started training under their guidance and I have had successful races. I won an Olympic distance race once, and a long distance race (almost a half Ironman) some years ago. In 2014, I won my age group at IM Maryland; not an easy thing to do. Except for a couple of races where I have bonked, I usually finish in the top 3 of my age group.
Race fueling: what about Cola?
I love drinking Cola during Ironman races. That is what keeps me going to the next aid station! During long training rides (5-6 hrs) I always buy me some coke halfway. Also, during the summer when it is hot out and I have a long workout, like a 6 hr ride followed by an hour run, I have some cold coke when I finish. It is my only reward!
What are the shares of swim/bike/run in your training schedule?
My training volume per week varies throughout the year. Basically, I swim three times a week, bike five to six times a week, and run five to six times a week with most of the runs done off the bike. My long rides and runs are done during the weekend because that is when I have more time. Training varies between 10-11 hrs a week to 25 hrs during some intense weeks.
How long is your pre-competition break?
I usually take about two to four weeks of doing whatever I feel like doing, unstructured easy training, and I just eat whatever my body is craving. It is not a bad idea to gain a couple of pounds during the offseason. It is important for the mind and body to have a break from your training and do activities you usually put aside.
Any tips on fast recovery after the event?
After you are done with your race, you should continue to hydrate with a drink that has sodium and electrolytes. Eat protein and high carbohydrate food like a bagel with peanut butter or a protein smoothy. The day after your race you can do a light walk or a super easy spin to promote blood flow and reduce muscle stiffness. If you can handle an ice bath, go for it; reducing inflammation can help speed your recovery.
What was the hardest Ironman for you?
The Ironman World Championship in Hawaii. I have been there three times and still can't figure out how to do well there. The heat, the wind, the humidity and the hills can really break you.
Which Ironman is better for the beginners?
There is no easy Ironman! Whether it is a flat course or a hilly course, you are going to have pain and discomfort at several points during the race. Pick a race that doesn't require too much travel and you will be saving stress and money!
Do you have an Ironman tattoo?
Not yet. I'm seriously thinking about it. I don't think I would do the Mdot, but something different related to triathlon.
Wetsuit - which one do you prefer and what is the layer thickness?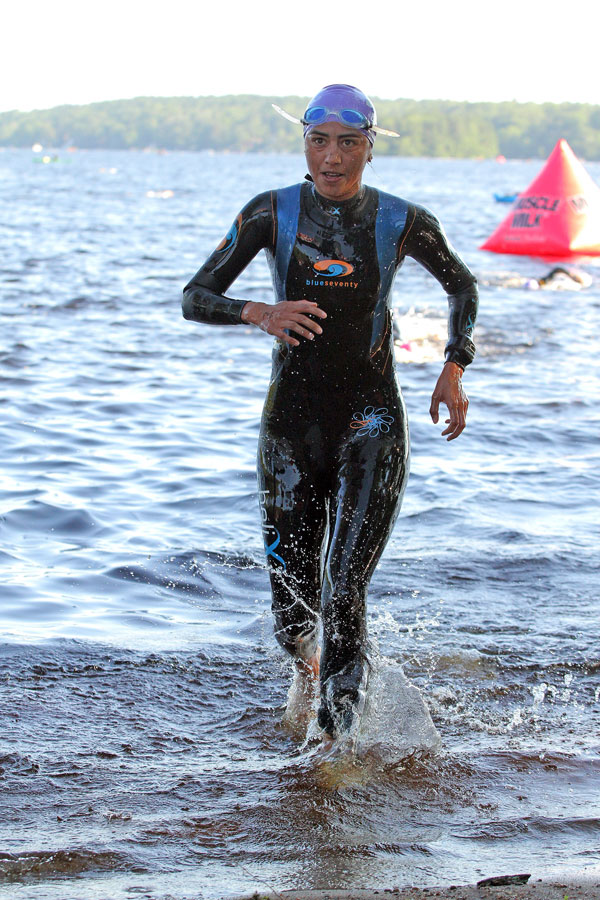 At the moment I am using a Blueseventy Sprint wetsuit. It is not a very high-end wetsuit but it works. The layer of thickness varies throughout the wetsuit. For non-wetsuit races, I wear the Viper Comp Swimskin. It is a very sleek swimskin. Triathlon can become very expensive if you start adding things up!
Water glasses fog - is it a problem for you? Any tips how to solve it?
I have not had issues with my goggles. I sometimes put on an anti-fog solution that will prevent the lens from fogging. You can also wet them a little bit before you put them on.
Do the official Ironman swimming caps fit your head? Aren't they too small?
Yes, they fit just fine. Everyone has to use the official swim caps.
Is it possible to win a triathlon award only using physical strength, with no coach and no proper technique?
I guess it could be possible for short triathlons if you are gifted. You need some kind of plan to avoid injury and burnout. Proper technique makes you more efficient which could equal to faster times and you can also avoid injuries.
Could you please give one generic tip for each sport - for those who haven't found a coach yet?
Swim: practice swimming in the open water, not just the pool. The swim leg of a triathlon is done in the open water and you have to be ready for race day. Practice sighting and swimming in a straight line. It is easy to do it in the pool but not that easy in the open water.
Bike: be sure to have a bike that fits you and that you get a comprehensive bike fit done from a professional. This is one of the most important investments that you can make to improve your cycling. A good position on your bike equals to faster bike times and a better run off the bike.
Run: make sure many of your runs are done off the bike. Finish your bike workout and quickly change into your run gear. You need to teach your legs they can still run well when tired.
Thank you your advice, and thanks for the interview! I must admit you live extremely interesting life. We wish you the best of luck at your next Nevada race, and keep fingers crossed for your next Hawaii!